Garry: Crushes are a difficult thing, especially when you are an adult. It is bad enough when you are a child, but even worse when you are an adult. Questions about guys and girls with crushes and the use of pheromones.
This is again one of the three categories that are the worst. Getting back an ex…this is when pheromones don't work well: Getting back an ex, fixing a broken relationship or attracting a crush. It's worth a try. Sometimes it does work, but most of the time it doesn't. I think as a male especially, you are really wasting your time and reducing your opportunities when you entertain a crush because while you are microscopically focused on that one girl, you have thousands of other girls moving around you at all times and a certain number of them statistically are going to like you. So you are really selling yourself short by focusing on the crush. The crush may or may not like you. Sometimes they are weirded out by you. Sometimes they don't know you exist. Sometimes they like you too that is why you feel the feeling that you feel, but I think when you are that focused on that one person, you really are missing the big picture and missing other opportunities.
Godai: Pheromones in general need the broad audience. That is what they are designed for to begin with.
Garry: Yes, it's a statistical advantage. Certain number of girls, say out of a hundred, so you got out of a hundred, five are going to like you with or without pheromones. Five in the other end of the hundred are going to hate you with or without pheromones. And everybody in between is somewhere on that graph. And when you wear pheromones, suddenly it ups you on the end of "like" so instead of five maybe ten or fifteen, so that jumps you from five percent to ten or fifteen percent out of that hundred that are now going to like you. The five on the end that hates you, they are still going to hate you just because you are you. You are never going to impress them or attract them using pheromones.
Godai: Could just be because being Japanese…
Garry: (Laughs)
Godai: Could it be because you have a beard.
Garry: Could be bald.
Godai: So what are you going to do about that?
Garry: Why fight it. Don't worry about the ones that are not interested. The ones that don't care. Focus on the ones that do.
Godai: And another thing is that, it's very important. A lot of times people have a crush when you have been friends for a long time.
Garry: And you get stuck in the friend zone.
Godai: And you get stuck in the friend zone for a couple of years. It's really hard.
Garry: It's really hard to pull yourself out of it. It sucks to be in it but it's hard; the fantasy that you are someday going to pull out of it is pretty much that, it's a fantasy.
Godai: You have to do something drastic. You might really pull out.
Garry: Yeah. Disappear for a few years. Go to war in Iraq. Come back a different person. That might do it.
Godai: Get a few scars.
Garry: Actually change who you are on the inside, that would do it.
Godai: Yeah, exactly.
Garry: Become a cage fighter.
Godai: Oh yeah, that would do it, exactly.
Garry:  You got it.
Godai: Get bald.
Garry:  Yeah go bald or if you are already bald, grow hair, unless you can't then wear a wig.
Godai: Don't be Japanese.
Garry: (Laughs) The point is you don't know how foolish you look to the rest of the world when you have a crush.
Godai: Yeah.
Garry: Pull your head out of your butt or her butt. Quit freaking her out. Quit worrying about her. Focus on the bigger picture. Focus on the big wide world. Work on improving yourself. Those ones that do like you, those ones that are on this end with the enhancement of the pheromones, they are going to come to you. You are going to have a better life; you are going to have better odds. Don't just focus on this one losing point. And if you pull out and focus on this bigger picture, there is a chance your crush may pay more attention to you. Especially if you are in the friend zone area, you are already following her around and trying to please her in every way.
Godai: If you become just a lot more attractive person, then you don't need her anymore, unfortunately.
Garry: You've got to understand when he's talking about attraction, he's not talking about changing your looks, although you can, change how you dress and your cleanliness, but he is talking about what is attractive to a woman; and what is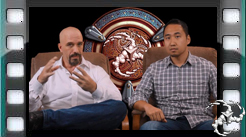 attractive to a woman is how you make her feel. Who you are as a man is what is attractive to a woman so that is sort of another topic, but it's important to be aware that there is a difference between what a man finds attractive and what a woman finds attractive which is, as men we assume is going to be the same way, we see a nice shape, we assume if a woman sees a nice shape, she is going to be equally attracted as we are, but it's very different. What attracts a woman is very different than what attracts men so work on yourself. Improve yourself as always. I think that about covers that. Thanks guys.